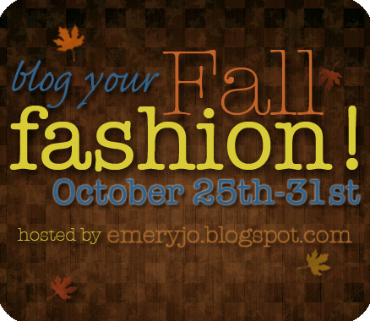 Check it out! I was reading
With Love, Jamie
and she posted this! So cool and I am planning on participating. You should too! It will be fun. Click on the button on my sidebar to find out more. I was too excited to even find out more information for myself before I posted this so I can't tell you much. The button on this post doesn't work because I don't know what I am doing.
So what are you wearing this fall?

Ruche: I REALLY like this tunic. It's sort of romantic. I really really like it.

Ruche: So Whimsical. I would wear this.
Ruche: If I still needed a backpack I would choose this one.
Ruche: I love lockets. I don't have one, but I like them all. This one reminds me of something. I think my mom used to have one like this.
<a href="
http://emeryjo.blogspot.com%22%3e%3cimg/
src="
http://i196.photobucket.com/albums/aa122/emeryjo/fallfashionbutton1.png%22%3E%3C/a
>
Here are some fall clothing choices I really like.

Ruche: I really like the detail of this top. The fulness on top and bottom of the shirt would accentuate your waist nicely. If I had a waist.

Forever 21: I think I like this. I don't know. Just the shirt.

Ruche: Boots! I love boots. That's my favourite part about Fall fashion. However, Buzzbee does not share this love. He has a fear of boots. He also thinks that women who wear boots are...high maintenance? definitely not me, but that's his opinion. haha. I still wear them and he loves me just the same.
 
Forever 21: This would be cute while raking the leaves or sitting out for a bonfire! Love the hat too!
This ensemble says "I don't care what I look like but I know I at least look cute" (That didnt really make a ton of sense but you get my drift)



shopruch.com. Nothing says you are ready for cold weather like a plaid flannel shirt. Lumberjack style. I shall get this. Or one similar for a cheaper price. :)





J Crew: Velvet School boy blazer. I really like this. Of course I cannot afford this exact one but I will let you know if I find one similar.




Ruche: This colour is beautiful for fall. I really like this scarf. I bet target has one similar. Although I have too many scarves and just gave some away to GoodWill.





Last items were all from Ruche. I don't have time to write about them right now. I must be off and pick up Buzzbee from Soccer.

I will most likely finish up this post later. maybe. I have a lot of cleaning to do tonight. And lasagna.






TA TA